Builderall Review (for MLM Business Owners)
Sep 18, 2021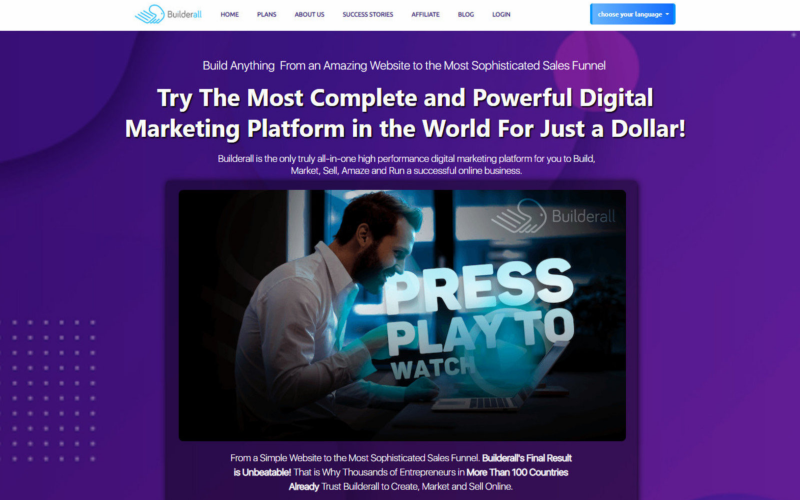 Are you wondering if Builderall is the right solution to help build your MLM business? In this Builderall review, I'll cover 12 of the top questions about it from the perspective of a customer and business builder. I'll specifically provide a Builderall 4.0 Premium Plan review and will not cover the Funnel Club.
Table of Contents​​​​​​​
What is Builderall?
What are the Core Features for MLM Businesses?
Can it Help Your Business?
Is it Overhyped?
How are the Funnels?
Builderall vs Clickfunnels
Is Builderall a Pyramid Scheme or MLM Opportunity?
Earning Commissions as a Builderall Affiliate
What Support Does Builderall Offer?
How Do I Cancel My Builderall Subscription?
Builderall Money-Back Guarantee – Does It Even Exist?
Conclusion – Is Builderall Worth It?
What is Builderall?
Builderall, e-Business4us Inc., is an online marketing platform that allows users to build their own websites, design, and market digital products, create a powerful email marketing campaign, and much more. Since Builderall is a cloud-based service, you do not need to download any software and can access your content anywhere you go. Furthermore, Builderall is easy to use and requires no technical skills so you can get started right away. They are based out of Orlando, Florida and it was founded by Erick Salgado. Based on the Who.is database, their domain was registered in September 2016.
What are the Core Features for MLM Businesses?
While it is supposed to be an all-in-one online marketing platform, not all of the features are considered core for most MLM'ers in my opinion.
As a network marketer, here are the core tools that I would recommend:
1) Builderall Responsive Builder – While many MLM companies offer their own lead capture pages or websites, Builderall provides an easy-to-use, responsive landing page builder. This will allow you to create high converting pages that will transform prospects into customers. The responsive, drag-and-drop builder will allow you to easily build your page without knowing any code, and you'll be able to build pages that can adapt to a variety of devices, both desktop and mobile.
2) Professional Email Marketing Platform – Once you get a lead, you'll need to easily send scheduled email follow-ups. This can be done through their MailingBoss autoreponder system. They offer unlimited emails, a drag-and-drop builder, and it's part of the premium package. There is no need to get a separate email server (and use SMTP), a separate email marketing service, or desktop email marketing software. It's integrated into the Builderall premium plan.
3) Sales Funnel Builder – The Cheetah Funnel Builder allows you to visually create complex funnels. However, as an MLM business builder, you don't need any complex upsells or down sells unless you're selling you're own products (which is totally different from your core MLM business).
4) Builderall Evergreen Webinar Builder – For advanced marketers, you can also use their webinar app and evergreen webinar builder. This will allow you to produce your own virtual presentations. So if your company or your upline doesn't have a good presentation to offer your leads, you can provide your own custom version to sell your products or opportunity.
There are many other features that Builderall provides, but I believe that these are the core features that the majority of MLM business owners can use to generate more leads and customers.
Can it Help Your Business?
The internet is full of people searching for ways to start their own online business. So many in fact, that it can be hard to stand out from the crowd. What's more, the industry is relentlessly saturated with scammers. With all the different frauds ​and scams, it's hard to tell the difference between a legitimate online business opportunity and a shady get-rich-quick scheme. As someone who has been in this industry for over 15 years, I can tell you that the Builderall business building system is one of the most comprehensive digital marketing platforms out there.
Is it Overhyped?
An interesting question raised by a member of the Builderall community: is Builderall overhyped? Builderall is a disruptive online marketing system that enables users to create websites, mobile-friendly pages, video webinars, social media funnels, and more… all with just a few clicks. Is it better than competitors like ClickFunnels? I'll discuss this soon.
How are the Funnels?
It seems that everyone is looking for a new way to make money online with the recent hype of many online income opportunities. One of the most popular opportunities online is to make money from home with an online business — and that includes the use of funnels. Every day, hundreds of people are joining online business opportunities, trying to make money online, and failing. There are many reasons that people fail online, but the most common reason is they are not following the proper steps to make money online. Most people are told that they can make money online just by signing up for a new business opportunity, but they are not shown how to build a business that is actually profitable.
The first thing to look at, before you start to build your next funnel is to ask yourself this question. "Will this funnel make money?" If the answer to that question is "yes" then you need to ask yourself another question. "How profitable is this funnel?" Oh, you are probably wondering what I mean by those two questions. The first question I asked is the one that you need to ask yourself in order to find out if your funnel will make money or not. If the money that you are investing in your funnel is enough to break even or make a profit then that funnel will make money. The second question is about your return on investment. Breaking even is great, but creating and effective funnel that you can profit from is even better.
You'll want to look at your numbers across multiple months. For example, let's say that you're breaking even on the 1st month. Many MLM companies have residual income due to subscriptions or autoship plans. So that means that you can be profitable after the 1st month.
Builderall vs Clickfunnels
Builderall and Clickfunnels are both platforms that offer you the opportunity to create professional-looking landing pages for your online business, along with a variety of tools for building a profitable business online. But which one is better?
Both provide a large variety of tools that can help you build your business. Builderall is cheaper than Clickfunnels. In my opinion, you have to look beyond the price and here's why.
When you're building a website or generating leads, it's not a good idea to jump from one platform to another. Both of these are Software as a Service platforms.
When you're building websites on other people servers without direct server access, you'll be sacrificing your search engine rankings and traffic. That's if you're using one of the most affordable ways to get traffic to your website — search engine optimization. For techies, what I'm trying to say is that you can' t easily create 301 redirects from these solutions.
With email marketing platforms, exporting your listing from once solution and importing them into another solution isn't a good idea, nor is it allowed on most reputable email marketing platforms.
They email marketing services that typically allow this are abused by spammers and have lower delivery rates. What's the point in using a service like this if your readers can't even see your emails without going into their junk folders?
To make a long story short, these are both long-term solutions in my opinion. I'm mentioning this now because many cheap solutions go for the money grab and dissolve; This means that the ones that are more profitable are more likely to stay in business for the long-term.
When I compare Clickfunnels to Builderall from a profitability standpoint, as of 2021 Q1, ZoomInfo.com shows that Clickfunnels is 34 times more profitable than Builderall. Also, Russel Brunson, the CEO of Clickfunnels, has been successful in the internet marketing field for decades and has been more public with his successes.
Before you jump into Clickfunnels, make sure that you read my recommendation in my conclusion.
Is Builderall a Pyramid Scheme or MLM Opportunity?
You may have seen a lot of talk online about Builderall, the new online marketing platform that promises to help you be successful in the world of network marketing. But how can it deliver on such promises? Many have already called it an MLM scam and a pyramid scheme. Are they right? A quick look at the facts will tell you that Builderall is not a scam—and in fact, it's one of the best ways to get started in MLM, if you know how to use it. MLM typically is based on the multi-tier compensation model and this system doesn't use this. They use a 2-tier affiliate program. Which leads us to…
Earning Commissions as a Builderall Affiliate
You can use the Builderall tool to help you build your business through sales funnels and websites, and you can also earn commission as a Builderall affiliate. Some have even joined the company just to promote it as their primary business.
Since Builderall 3.0, Dave Sharpe has been working as their CMO. If you don't know him, he comes from a defunct opportunity called Empower Network. I've seen him live and he's a really good speakers and really knows about digital marketing and the psychology of sales. His primary goal is to get the tool in the hands of more business owners and allow them to experience the power of it. So if you're looking for a great leader and coach, Dave is a top notch guy.
There are no formal education requirements, no previous experience necessary, and no complicated products to learn. You simply sign up as a customer to become an affiliate with the Builderall system, then you promote it using the methods provided by the Builderall team, and you earn commissions from the sales you refer.
Earlier, I mentioned the 2-tier affiliate system. Many affiliate programs offer a single tier system. This means that you promote the offer and make a percentage of the sale. With a 2-tier system, you'll also make commissions off of the affiliates that you personally bring in. It's not like MLM where you bring in commissions beyond the 2nd tier. Promoting multiple MLM's is not typically not allowed by some of the popular traditional MLM's. Since this is 2-tier, you can use and promote along with your MLM.
What Support Does Builderall Offer?
Builderall is a unique MLM software platform that offers a complete suite of tools for building an online business. Here's a breakdown of the support it offers. Builderall has a dedicated customer service team that is available to answer your questions 24/7.
If you want to contact Builderall directly, you have a few options. You can call them or send them an email. If you want to call, the number is +1 800 794 8076. If you prefer to send them an email, you can send it to [email protected] ([email protected] for pre-sales questions).
How Do I Cancel My Builderall Subscription?
The Builderall cancellation process is simple. You can send in a request to support ([email protected]) to cancel your subscription. Based on their terms of use, there are no refunds for the lifetime MailingBoss plan or for domains purchased through their platform. If you've purchased through a trial or the $1 deal, then you'll want to make sure that you cancel before you are charged for the recurring subscription.
If you choose to cancel your web hosting plan, they may delete your data without the ability to restore.
When you cancel your subscription, keep in mind that they'll ask for a reason to learn more about buyer behavior.
Builderall Money-Back Guarantee – Does It Even Exist?
When I went through the purchase process, I didn't see any mention of a money-back guarantee. As mentioned in the last section, there are some products that you can't get a refund for. You can cancel your subscription, and try out the software at the lower rate. If you do this within the first 30 days before you get charged for your subscription, you can get a refund.
After reviewing their terms of use, I can understand why they've placed so many restrictions on refunds. They want to limit customers that cancel or ask for refunds just to switch-up their upline in the system. Also, you can only ask for a refund once.
Just like cancellations, they'll ask for a reasons for asking for a refund.
Conclusion – Is Builderall Worth It?
The biggest advantage of Builderall is that it's a complete internet marketing system that allows you to do everything on your own and grow an online business (as of 1/2021, the cost for the premium plan is $69.90 / month). If you don't want to promote Builderall products and services as an affiliate, you don't have to. You can promote your MLM, affiliate products, your own products, or anything else you can think of.
If you're looking at the short-term, I believe that it is worth it.
If you're looking at the long-term, which you should if you're building a network marketing business, I would recommend using another system that has a higher probability of being around for many years to come. I'm talking about services that have many investors that will increase the likelihood of survival, more features based on user feedback, bug reduction, and one that has great oversight by top internet marketing experts.
If you want to check out the complete internet marketing solution that I recommend, click here.
More info can be found on their website: https://builderall.com/