WFG Overview:  Gaining Financial Independence Through World Financial Group
Sep 24, 2023
World Financial Group (WFG) provides individuals and families the tools and knowledge required to achieve financial independence. As a leading financial services organization, their mission is to empower people to take control of their financial future through education and personalized solutions.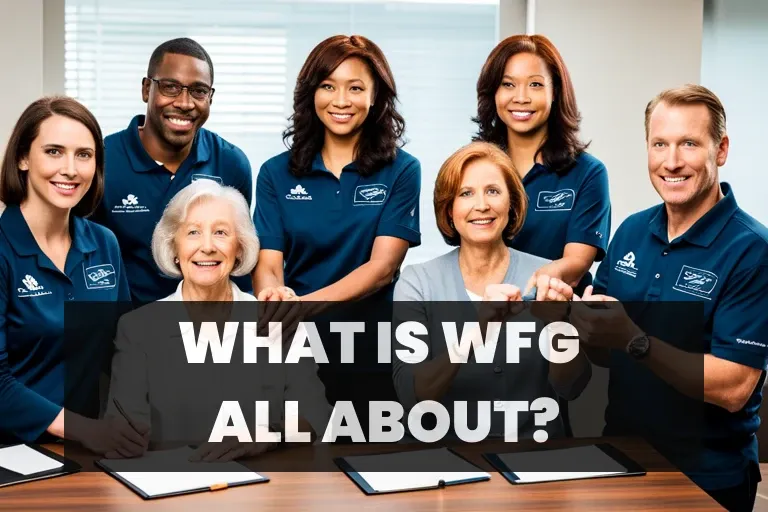 WFG offers a diverse range of services - from insurance to retirement planning, investments, and wealth management. With a team of professional financial advisors, they can create customized strategies to meet each client's unique needs.
Over 25 Years of Industry Experience and Expertise
Founded in 1991, WFG has grown significantly over the past 25+ years. During this time, they have assisted thousands in accomplishing their financial goals and securing their future.
A key strength is their vast network of financial professionals. With access to an array of products/services from top institutions, WFG advisors have the resources to build tailored plans. Their know-how allows them to guide clients towards financial success.
Collaboration with Established Leader Transamerica
WFG is a subsidiary of Transamerica - a respected financial services company with over 100 years of experience. This partnership gives WFG added credibility and capabilities to better serve clients.
The WFG-Transamerica connection also enables career development opportunities. WFG advisors can pursue leadership roles and build their own team. This empowers individuals to not only realize their own financial objectives but help others do the same.
Commitment to Community Involvement
WFG believes in giving back and making a positive local impact. They actively participate in charitable initiatives, including food drives, clothing donations, and volunteering. Their agents dedicate time and resources to these efforts, creating widespread benefits.
WFG also teams up with non-profits to address social issues and drive change. Through targeted programs, they aim to build stronger, more inclusive communities.
Prioritizing Ethical, Customer-Focused Care
WFG prioritizes ethical practices and customer-centric care. Their advisors focus on providing personalized guidance based on trust and integrity.
They implement strict compliance standards to uphold professionalism and ethical conduct. This ensures clients receive fair, transparent services. WFG regularly reviews policies and gathers feedback to continuously improve the client experience.
Overall, community involvement and ethical conduct are central to WFG's identity. Through outreach and customer care, they strive to make a positive global impact.
Building a Team of Trusted, Reliable Leaders
Critical to WFG's success is a team of trusted, ethical leaders. These mentors possess financial expertise along with a deep understanding of company values/mission. They support independent agents with knowledge and insights needed to thrive.
WFG's leaders are chosen for their integrity, conduct, and commitment to clients. They undergo rigorous training to deliver expert guidance. By cultivating credible leaders, WFG establishes an environment of trust - vital in financial services.
Network of Independent, Client-Focused Agents
WFG operates through independent agents devoted to personalized financial solutions. Unbound to specific institutions, these agents provide unbiased advice and diverse product access.
Agents are carefully selected and trained to master industry skills and knowledge. Their priority is building long-term, trusted client relationships and guiding people toward financial targets. With expertise and commitment, they are ideal partners for securing one's future.
Emphasis on Developing Professional, Competent Advisors
Professionalism and competence are central pillars of WFG's services. They emphasize continuous education so agents stay updated on trends/regulations. This enables informed, holistic recommendations.
WFG also stresses the importance of competence. With extensive product/service access, agents can customize strategies to each individual's financial aims. By fully understanding unique goals, WFG creates tailored solutions that help clients realize aspirations.
Numerous accolades showcase WFG's dedication to professional, competent service. Their excellence and integrity in financial guidance set them apart.
Offering Comprehensive Financial and Insurance Solutions
With WFG's 2001 acquisition by Transamerica, they expanded offerings to deliver complete financial and insurance services. Their solutions cover diverse needs - from life insurance to retirement planning, investments, debt management, and more.
Widespread Network Providing Localized, Personalized Support
WFG maintains an extensive presence across the United States and Canada. Strategically located offices and agents ensure accessibility.
Their large agent network demonstrates a commitment to personalized service. These trained professionals aim to grasp unique financial objectives and provide tailored strategies. They work closely with clients to develop aligned plans and give ongoing assistance.
Assisting Clients with Financial Planning and Protection
WFG offers a full suite of financial and insurance solutions catered to individuals/families. For those starting out or near retirement, looking to safeguard loved ones or manage debt, WFG has specialized guidance.
They provide:
Life insurance to protect loved ones
Retirement planning and investment options
Debt solutions to gain financial freedom
Wealth management to maximize assets and achieve long-term goals
With this comprehensive range of services and focus on personalized needs, WFG helps clients navigate financial planning and achieve aspirations. Their capabilities, backing by Transamerica, position them as a trusted advisor for financial and insurance needs.
The Bottom Line
With over 25 years of experience, WFG provides the knowledge and resources to realize financial independence. Their collaboration with Transamerica, network of skilled agents, and emphasis on trust and professionalism enable customized guidance. Whether seeking insurance, retirement planning, investing, or other needs, WFG has the expertise to help you reach your financial targets. You can view my World Financial Group review for my personal view on the company.
References
Frequently Asked Questions
How can WFG help individuals and families build financial security?
WFG offers a range of services, including insurance, retirement planning, and wealth-building strategies, to help individuals and families create a customized financial plan for a secure future.
What is the role of a Vice President (VP) or Director at WFG?
VPs and Directors at WFG play key leadership roles, guiding independent agents and helping them create tailored strategies to protect clients' financial futures.
What is the significance of field agents at WFG?
Field agents are essential in WFG's mission to educate and assist individuals in creating strategies for financial security, serving as the frontline representatives of the organization.
How does WFG protect the financial future of its clients?
WFG provides a wide range of insurance products and opportunities to develop financial strategies that protect individuals and families from unexpected financial setbacks.
Can WFG help individuals in Canada prepare for their financial future?
Yes, WFG operates in Canada, offering its services to help individuals in Canada start their journey toward financial security.
What types of insurance services does WFG offer?
WFG offers a diverse portfolio of insurance products, including life insurance, group insurance, and more, tailored to meet the unique needs of clients.
How does WFG work with Transamerica to assist clients in North America?
WFG's collaboration with Transamerica enhances its ability to provide comprehensive financial services and reach clients throughout North America.
What are the benefits of working with independent agents at WFG?
Independent agents at WFG offer unbiased advice and diverse product access to help clients create personalized financial plans.
How does WFG educate and empower individuals to build financial security?
WFG's professionals educate individuals, helping them learn about financial strategies and providing coverage options to protect their financial goals.
What is the relationship between World Financial Group (WFG), World Marketing Alliance (WMA), Aegon, Transamerica, and Western Reserve Life?
World Financial Group (WFG): WFG is a financial services organization that provides individuals and families with a range of financial products and services, including insurance, retirement planning, investments, and wealth management. It operates as a subsidiary of Aegon.
World Marketing Alliance (WMA): WMA was formerly known as World Marketing Alliance and is now part of WFG. It is an integral component of WFG, contributing to its mission of empowering people to achieve financial independence.
Aegon: Aegon N.V. is a multinational life insurance, pensions, and asset management company. Aegon is the parent company of Transamerica, which is closely related to WFG.
Transamerica: Transamerica is a subsidiary of Aegon and is a well-established financial services company with over a century of experience. WFG has a collaboration with Transamerica, which enhances its credibility and capabilities in serving clients.
Western Reserve Life Assurance Co. (Western Reserve): Western Reserve is an insurance company that has been associated with WFG in the past. It was known for offering life insurance products. However, please note that my knowledge is based on information available up to September 2021, and the specific relationships and affiliations among these entities may have evolved since then.